I am feeling SOOO much better! What a huge relief. Tuesday afternoon I started to feel human again and in my body. I was at work and even though it was super hot I managed to feel better as the day went on instead of worse. I had a beet/grapefruit/celery juice around 1pm and all of a sudden I felt in my body again. It was an amazing feeling! I am actually thinking of getting a good quality juicer...although that is extravagant.. Right now my vita mix is great with the paint straining bags for juicing. This winter I want to start growing wheatgrass though... so I'll guess I'll see...
I love feeling good again! Today is day 10 and really it's not that hard anymore. I had some intense cravings yesterday .. but I let myself get too hungry. I think it's important to carry foods or smoothies with you because it seems like you do have to eat more frequently..
Speaking of smoothies.. I could NOT do this without Green Smoothies. They are the best. I drink at least a quart a day.. and more often two quarts. I do make mine pretty thin so there is a lot of liquid in them... but I work in a hot kitchen and need those liquids...
My favorite smoothie is:
2 c organic greens.. baby spinach or kale
2 c water
1 frozen banana
1 T golden flax meal
1 c frozen fruit (strawberries, peaches, mango)
I feel so calm, cool and centered after enjoying one..
I love this salad.. obviously since you see it every time you come to this blog! My recipe is mostly RAW... I use condiments that aren't 100% raw and you can toast the nuts.. or not! Obviously I won't be toasting them..
Baby Arugula Salad with Pecans, Figs and a Tarragon Vinaigrette:
Salad
7 oz baby arugula
1 cup red seedless grapes
4 fresh figs, quartered
1 cup toasted pecans *
1/2 cup shredded carrots
1/2 small shallot, finely diced

Place 1/4 bag of arugula, 1/4 cup grapes, 1 fig, 1/4 cup pecans, 2
tbsp carrots and 1-2 tsp of the shallots on each plate. Dress lightly
with the vinaigrette. This is a strong vinaigrette, so use about half
as much as you normally would, adding more as you wish.

*To toast the pecans, place them in a single layer in a dry skillet
over medium high heat for 2 minutes or until they are nice and
fragrant.

Tarragon Citrus Vinaigrette

½ cup white balsamic vinegar
6 tbsp orange juice
2 tsp umeboshi i vinegar *
1 ½ tsp kosher salt
1 tsp freshly ground pepper
1 tsp dried tarragon (or 1 tbsp fresh tarragon)
1/4 tsp ground fennel seeds
1/4 cup fresh chives
4 cloves garlic
2 tbsp dijon mustard
3 tbsp maple syrup
2 tbsp flax meal **
4 tbsp extra virgin olive oil

Method:

In the order listed above, place ingredients in a blender and blend
until well combined. Taste and adjust seasonings if necessary. Yield
2
cups

*Umeboshi vinegar is usually found in your health food store. If you
can't find it, add 1 tsp lemon juice and 1/2 tsp soy sauce instead.

**Make sure your flax meal is not rancid. Taste before making the
dressing if you aren't sure. I store my flax meal in the freezer.


I've been missing bread and tortillas a lot.. so created this raw zucchini/steel cut oat flatbread which has helped with the cravings and given me some substance... I smeared this with my cashew veggie cream cheese, avocado , home grown sprouts and tomato.. I can't wait to start dehydrating cashew cheese for real sandwiches!
I just love sprouting so much. It is such a great feeling to actually grow your own food.. and it's SOO cost efficient. As long as you get into the groove it is pretty easy. I use both jars and strainers (just wire mesh collanders) and so far have had no problems at all..

Work is getting easier. I have settled into the fact that I will be tasting around 1/4 cup to 1/2 cup of cooked food a day. I try to keep it on the lower level, but sometimes it is very necessary to finish a dish off and tasting has to be done.... I don't think I've hit a 1/2 cup yet.. but that is my maximum amount I'm willing to taste.

I am so much more mindful with food.
This is a HUGE reason why I'm doing this.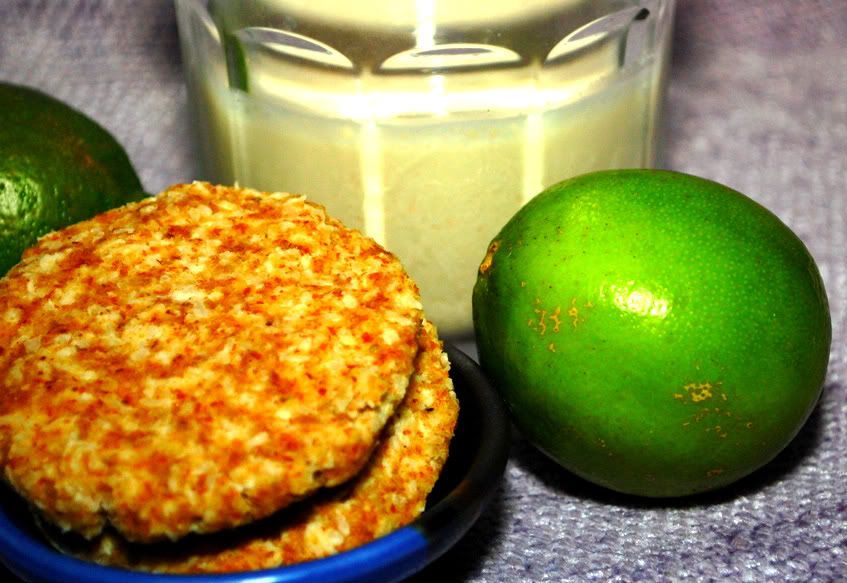 I LOVE almond milk. It is so delicious. The best benefit of almond milk is the pulp it leaves behind! It reminds me so much of Okara, which I used to make burgers out of. You'll be seeing some RAW Pulp burgers in this blog soon.. but I couldn't help but turn the first batch of pulp into Coconut Lime Cookies! They are just delicious and so filling. I can actually only eat one at a time with a glass of almond milk...

I'm starting to get excited about creating recipes again. For the first 8 days I was just feeling so crappy and hungry and sick... Looking back I realize I barely remember ANYTHING about the week... how odd... or not.. maybe it's like the pain of childbirth! ... lol

I am amazed that I am feeling good now and I'm not really craving food...