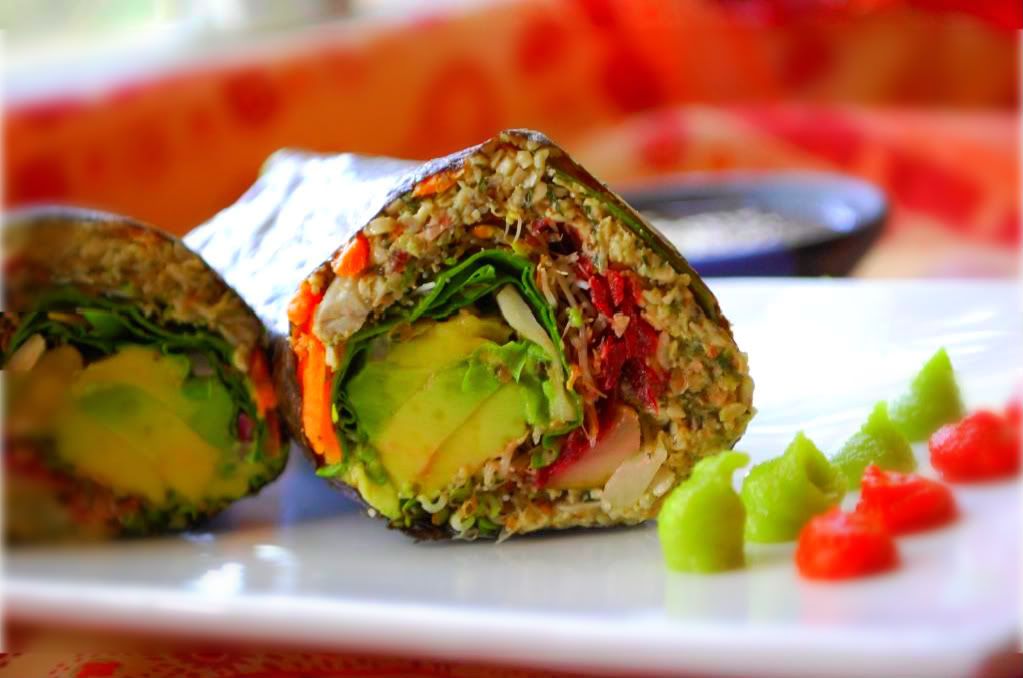 I think today may be the most challenging day yet. I am HUNGRY and craving carbs really bad. Fortunately, this nori wrap really quelled the urge for a sandwich! Now, I have to preface this by saying, yes.. that is siracha! I am not giving that up. Maybe one day, but being able to have a little bit of siracha or pickles or olives is what makes this possible for me. The nori roll was filled with veggies and our sunflower pate from work. The avocado brought it all together and it was very satisfying.
I have a feeling I'll be eating a lot of various nori rolls. I have some bread like experiments in my dehydrator that I hope work out. The first is a zucchini/pesto/flax cracker. I made a lot of spinach pesto this morning and used the pesto leftover in the food processor to flavor the zukes. I also added sesame seeds. The second experiment is a corn bread like thing.. and then I had a little bit of each of the 'doughs' so I mixed them together and formed burger patties. We shall see if they come together!
Oh.... the spinach tortillla worked! I can't believe it. Just spinach, spices and a bit of flax meal...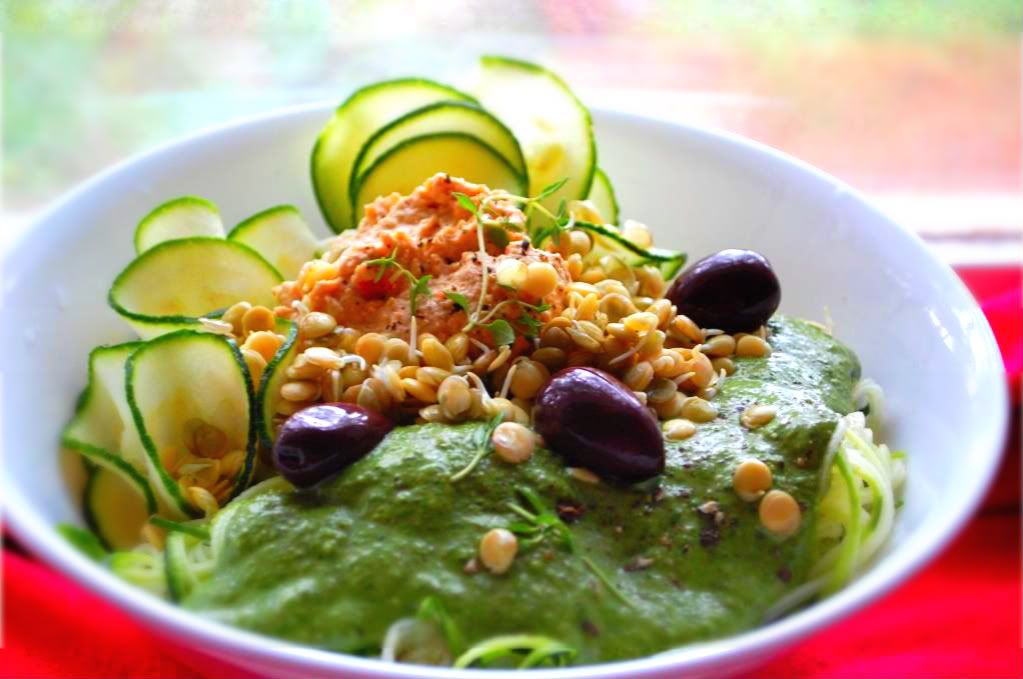 Pasta two ways! I made the spinach pesto which I tossed with zucchini angel hair and the other was zucchini ribbons with some of the cashew veggie cream cheese, lentil sprouts and fresh thyme. The pesto made 5 cups and I only used 1/3 c nuts and 1 T EVOO in it.. I thinned it out with water and it's delicious. This was super filling.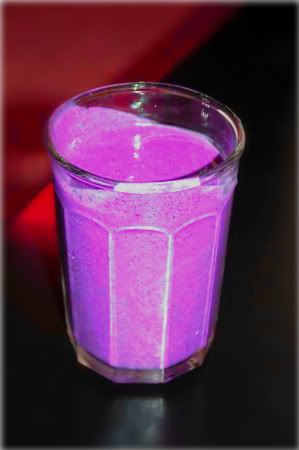 Blueberry/Banana Ice Cream Shake.... It was delicious and very creamy. I added 1/4 c of cashews to the Vita-Mix....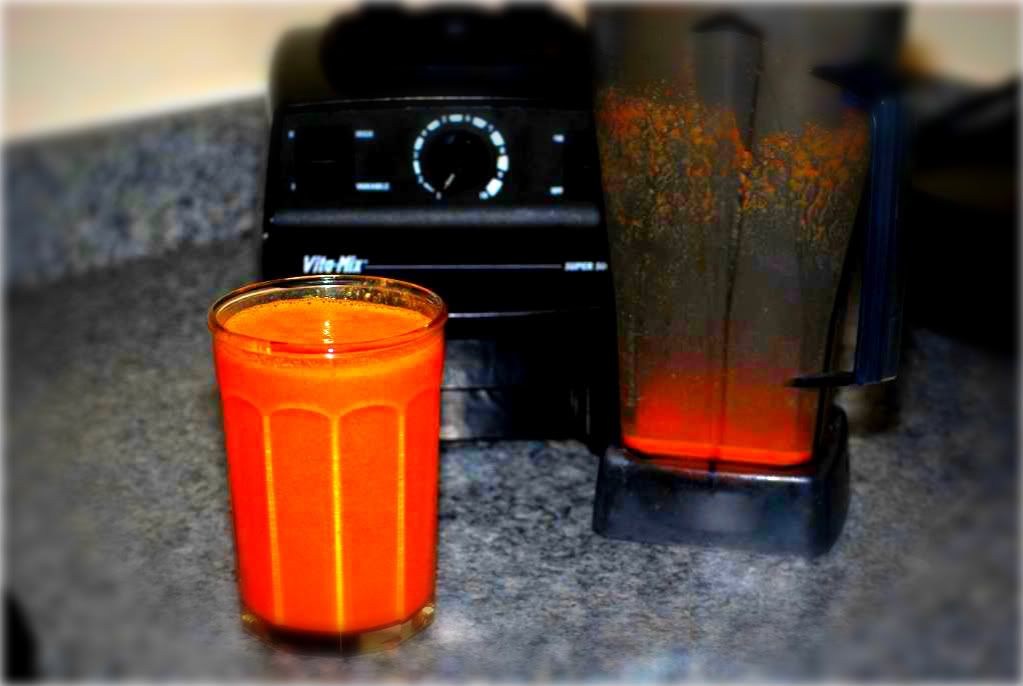 Carrot Ginger Juice. I love my vita mix. I strained it through a paint bag...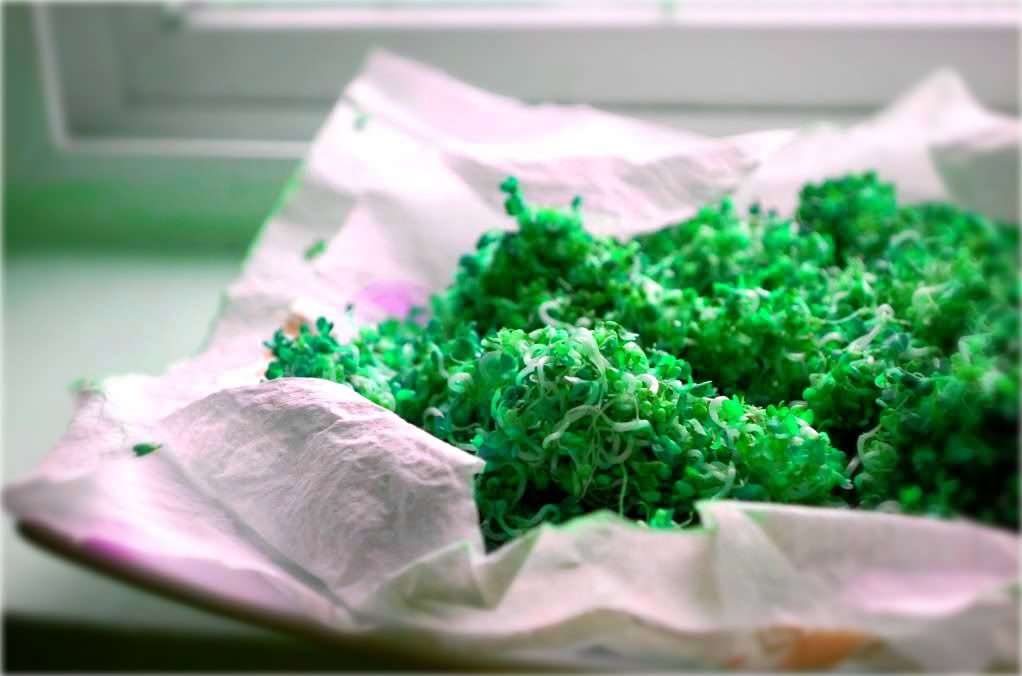 Lovely broccoli sprouts greening up in the window... I am doing a lot of sprouting. Right now I have lentils, alfalfa, quinoa and spelt berries going. It's really such a blessing to sprout. Frugality and nutrition right in your kitchen!
I am really tired today. I'm so glad I have the day off of work. Hopefully, I can motivate myself to go and walk my dog! lol
Happy Fourth Everyone! Stay Safe and have fun!