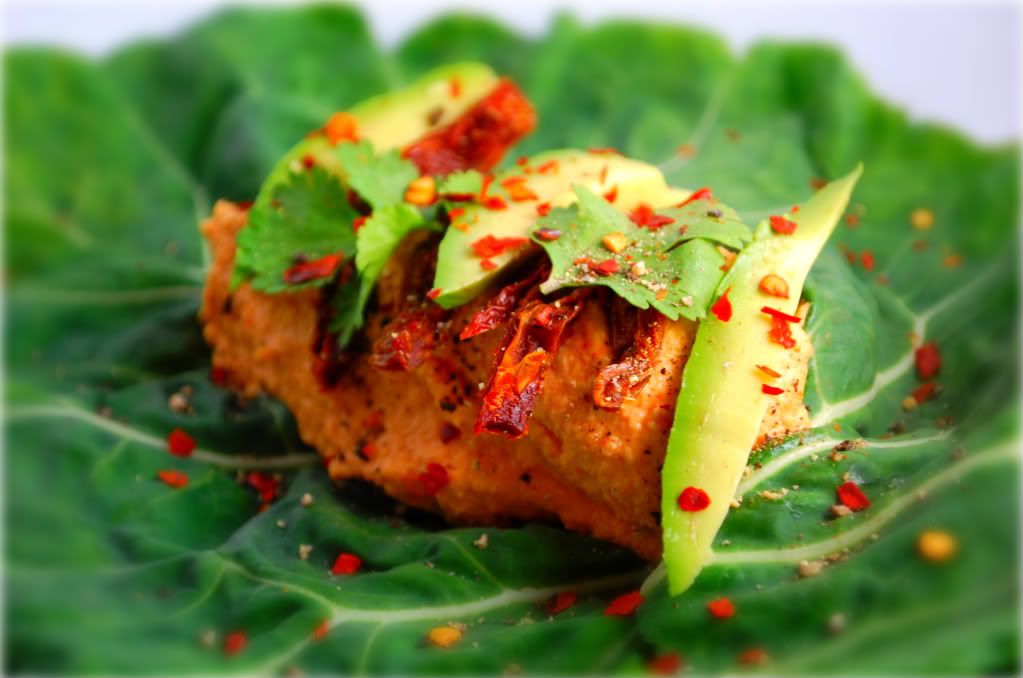 Raw 'cheese' enchilada
I've been craving raw foods lately which is strange given our freezing cold temperatures in New Hampshire.
First of all, I really appreciate the emails and comments about my food both here and on my work blog... and as far as recipes go, I don't use them so unless I take the time to measure and write down what I make, it is virtually impossible for me to post a recipe...
So, onto the raw enchiladas.. I was looking through my fridge and it is pretty bare.. I wanted a salad, but unfortunately my arugula turned and I had to compost it.. I had collard greens and sun dried tomatoes and macadamia nuts.. chipotles, limes, cilantro, avocado.. hmmmm ..
I made a fast cheese out of the nuts which will keep for several days..
Here's an approximation:
2 c nuts
2 dates
1 chipotle pepper
juice of 2 limes
cilantro
1 tbsp dijon mustard
1 tbsp onion powder
1 tsp garlic powder
1/2 small red bell pepper
water for mixing
salt/pepper
Mix everything in a food processor until smooth.
I wrapped 2 T of the cheese in a large collard green and topped it with sun dried tomatoes, red pepper flakes and 1/8 of an avocado.. and rolled it up.
I garnished it with salsa and defrosted frozen corn (But it broke when I rolled it up and the pic sucked)..
I had two of these for lunch and am totally satisfied. The chipotle and red pepper flakes are warming me from the inside out.
I wish I had the ingredients for a fresh pico de gallo and cashew lime sour cream, that would have made this dish perfect.. but it was still pretty good.
Yesterday, I made a kick ass Raw Cream of Mushroom Soup for work.. it was a last minute thing and I never took a pic of it for the work blog.. but it was delicious and sold out. I love that we serve our raw soups warm.. I let a small amount sit on the stove and warm up.. (only for 2 hours for food safety)..
I will be taking one of my raw cheesecakes to Thanksgiving this year. I'm excited to see what people think of it. I'll definitely post a pic..
I'm excited to announce that
Tracy has an E-book
out! (you can also buy a printed copy).. I just downloaded it and you should too! She is the Seitan Queen!