...but first, here are two raw tostada like dishes that were delicious. I made a very crispy shell from pulp leftover from juicing and making almond milk. Sunflower cheese, ranch dressing and salsa complimented the crunchy veggies. My son loved these even though he's not into raw food. As he puts it, "I'm into good food and this is good."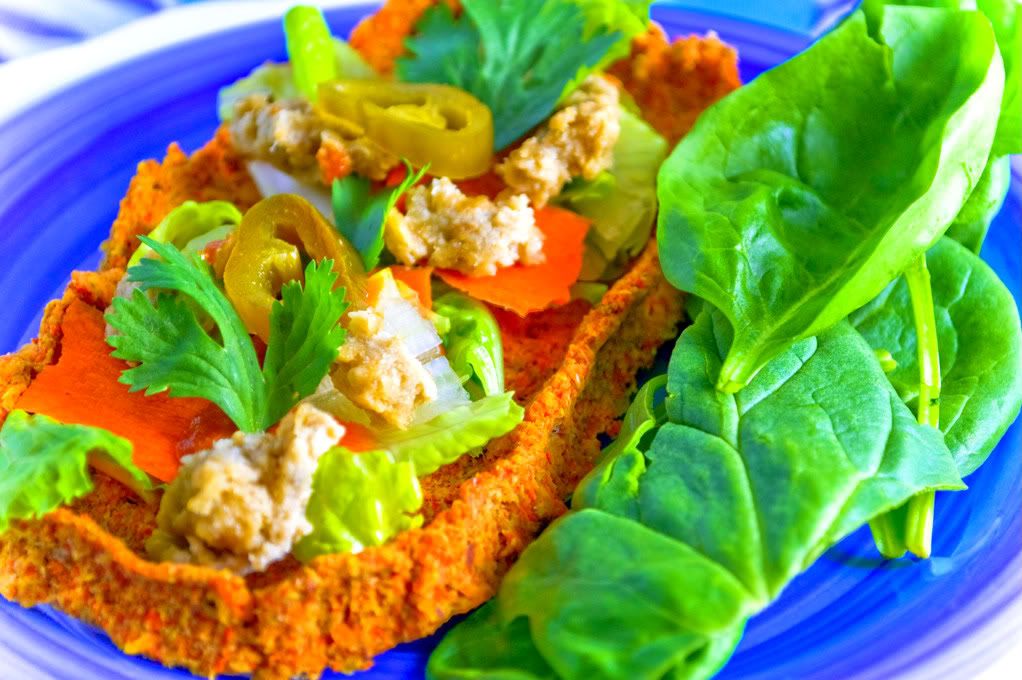 Now, onto the
Black Eyed Pea
recipes. I always eat them along with greens on
New Years
day and like to
prepare
them in
different
ways.
Indian Spiced Black Eyed Peas and Greens

3 c cooked black eyed peas (1 c dry)
2 T Coconut Oil or EVOO
1 t brown or black mustard seeds
1 T cumin
1 T coriander
1/4 t cinnamon
1 T curry powder
1 large onion, diced
8 cloves garlic, pressed
3 T freshly chopped ginger
1 T pickled jalapenos
2 c water
1 bouillon cube
10 oz frozen spinach, drained (or 10 oz fresh baby spinach)
15 oz can chopped tomatoes (or Rotel) or salsa
juice of 1 lime (2 T)
1 bunch cilantro, chopped
Method:
In a 4 quart, heavy bottomed pan heat oil on medium and add the spices. When the mustard seeds pop add the onion, garlic, ginger and jalapenos along with a pinch of salt. Cook until the onions are translucent then add the cooked peas, water, bouillon cube and bring to a boil for 3 minutes. Turn heat down to low, add the spinach and tomatoes. Cover for 10 minutes, then stir in the lime juice and cilantro. Taste and adjust seasonings. Serve over brown basmati rice or polenta.
Black Eyed Pea Burgers


1.5 c cooked black eyes peas (15 oz can or 1/2 c dry)
1 onion, small chopped
1 red pepper, small chopped
1 green pepper, small chopped
1 T garlic powder
1 T basil
1 t poultry seasoning
1/4 t baking powder
salt/pepper to taste
1 c cornmeal
2 T flax meal
1 T balsamic vinegar
Sauté veggies with the spices then mix everything together with your hands. Allow to cool in fridge for at least 2 hours, but overnight if possible. Shape into 6 patties (1/2 cup each) and cook over medium heat in a cast iron or nonstick skillet with a tiny bit of oil. Serve on a bun or bread with arugula and condiments of choice. I especially like this with cranberry chutney mixed with vegenaise.
Chipotle spiced Black Eyed Pea Soup

3 c cooked peas
2-4 T EVOO
1 large onion, diced
8 cloves garlic, pressed
1 t dried thyme
1 t marjoram
1 green pepper
1 red pepper
2 stalks celery
1-2 canned chipotles in adobo
1 large sweet potato, cubed
1 small head green cabbage, chopped OR 1 small bunch Kale chopped
15 oz canned tomato (stewed, crushed, sauce, whatever you have on hand)
8 c water or stock
bouillon cube
2 T Umeboshi Vinegar
1 c fresh basil
1/4 c nutritional yeast
salt/pepper to taste
Method:
In a heavy bottomed 4 quart soup pot over medium heat, add the oil, onion, garlic, spices and veggies up to the celery along with a pinch of salt and pepper. Cook until the onions are quite soft (around 10 minutes) then add 1 chipotle pepper, sweet potato, cabbage , water and bouillon cube. Turn heat up and bring to a boil uncovered for 3 minutes, then turn heat down to med-lo, add the cooked black eyed peas, cover and simmer for 15 minutes. Turn off heat, stir in umeboshi vinegar, basil and nutritional yeast. Taste and add another chipotle if desired and season with salt and pepper.
I hope everyone has a wonderful, SAFE New Years Eve and this year is the best year ever for all of us! I am excited about this year. I can't wait to see what happens in my life!