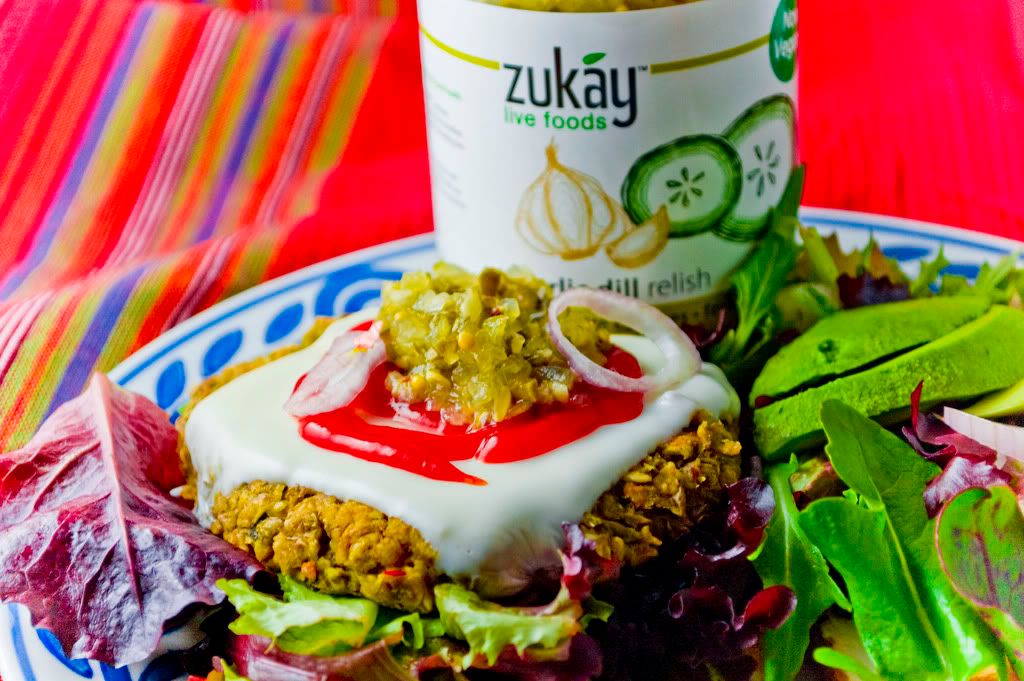 Lentil Burger with
Zukay

Live
Garlic Dill Relish
I made this delicious burger out of leftover lentils (more on lentils later), oats and spices. I topped it with
tofutti
mozzarella cheese, ketchup and
Zukay

Live Foods
Garlic Dill Relish.
Zukay
Live produces raw fermented products that are crawling with beneficial bacteria. Now, about this product, I must preface my review by saying I am not a fan of yellow mustard seeds. I adore
mustards
, but for some reason I do not like the taste of yellow mustard seeds. Since this relish contains them, I did not really like it. Other than the mustard seed flavor, I could appreciate the other subtle flavors in the relish. I think that garlic could have been more pronounced if they are calling it garlic relish. My son liked the relish a lot as did my EX. I like the fizz aspect and I can tell that it is much healthier than processed sweet or dill relish. It just feels alive and I felt good after eating it.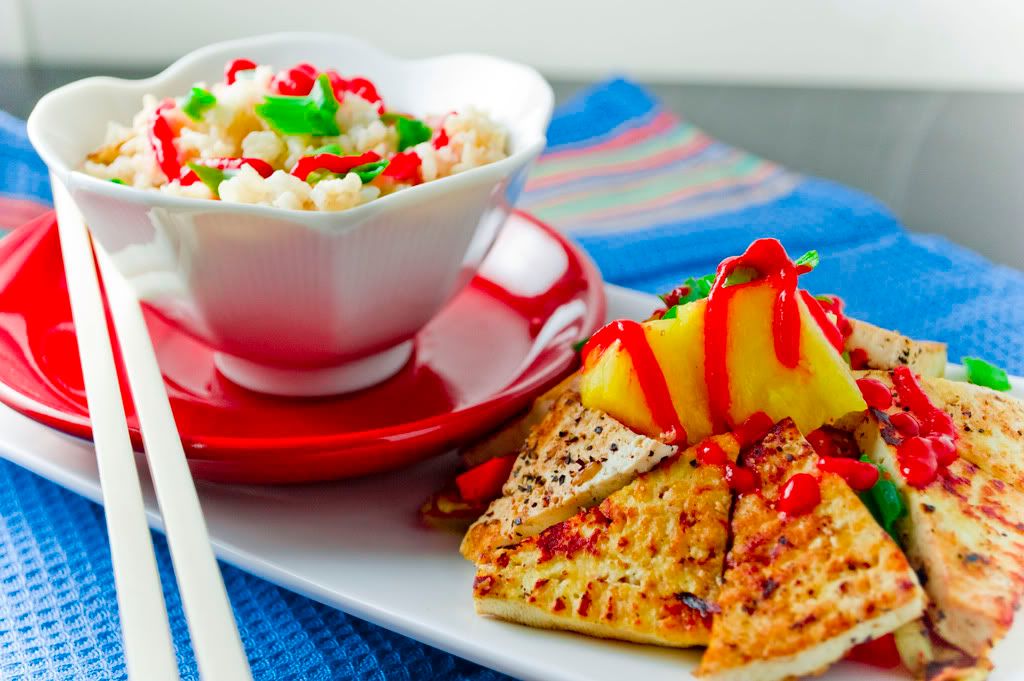 Cabbage Stir Fry with Tofu, Pineapple and Brown Rice
After the picture was taken, I dumped it all into a big bowl and mixed it together. It was a healthy version of fried rice! I used my cast iron to dry fry the tofu, then turned the heat up high and stir fried the onion, cabbage,
serrano
chiles
, garlic, ginger and carrots (hidden under the tofu and I added another big scoop of the veggies to my dish) with a spritz of cooking spray. Fresh pineapple,
siracha
, cilantro, scallions and 2 T of my own knock off version of Newman's Own Light Sesame Ginger finished it off. It was wicked hot, but very good. I saved leftovers for my sons dinner and he loved it as well.
I haven't written about frugal cooking much lately, but with these trying times, I am keeping my budget as low as possible. I still have not found a job since my layoff. I wish I lived in an area with a higher vegetarian/vegan population. It's tough out there. I am seriously thinking of making a big move in the next two years. My youngest son graduates in 2011. I know that Portland, Oregon has a great vegan scene as well as LA. I have family in LA, so I could stay with them while looking for a place. I might be open to New York as well.
Hmmm
.. I've been playing around with the idea of looking for work in Boston, but not sure that I could make enough money to justify my commute? (I live around 60 miles away)
Unfortunately, the vegan scene has not been profitable for me
jobwise
, but that is what I want to do. I am so passionate about vegan and raw vegan foods. I just love creating and it hurts my heart to think of finding a job outside of this field.
Ok
... onto the lentils I talked about earlier. I am continually amazed by them! Actually, I'm amazed at all dried beans/whole grains when it comes to creating delicious staples in my diet. I bought a pound of organic lentils ($1.69) and sprouted 1/4 lb of them. I think I got at least 3 cups of sprouts from that small amount. I used those sprouts in salads and to snack on. I boiled the remaining 3/4lb of lentils with some onion, garlic, thyme, rosemary, fresh basil, bouillon, balsamic vinegar, hot pepper flakes and black pepper. So far, I have made 2 large servings of lentil soup (see last post), 4 large burgers and still have enough for my dinner tonight of
mexican
tostadas
and to add to a pot of Eggplant/Tomato/
Quinoa
/Lentil/Kale soup I'm making that will feed us for at least 2 meals. Talk about a super bang for your buck! Having a base like this also makes preparing a 30 minute meal easy. I cook up brown rice, millet,
quinoa
or other grains to have on hand so I can throw things together fast. Cooking for one (or two) was a challenge
when I
first moved out of my house. Since I only have one kid here at a time and they're usually only here for dinner I had to adjust the way I cooked. If any of you read me when I first started this blog, I used to cook huge batches of foods and freeze them. I learned how to cook in a restaurant, so I'm more comfortable making large portions of everything! It has been challenging to scale things down to fit my needs.