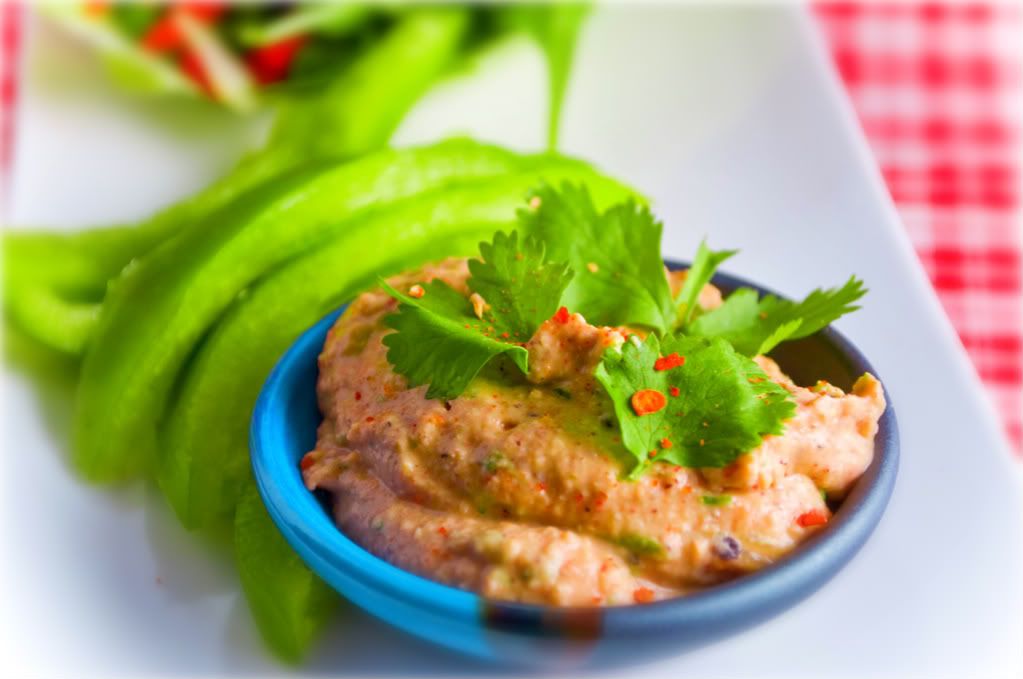 Chipotle Lime Black Eyed Pea Hummus
I had some black eyed peas leftover from yesterday, so I decided to make some hummus. I am thrilled with the results, especially this chipotle lime variation. So good!
2 cloves garlic (or up to 4 if you like a strong raw garlic taste)
1 t salt
juice and zest of 1 lemon
1t dry basil
1 t paprika
1/8 t freshly grated nutmeg
1/4 t pepper
3 c cooked black eyed peas
6 T tahini
1 T vinegar (the best would be umeboshi, but you can use any type)
1/2 t toasted sesame oil
1 T olive oil
Method:
In a food processor place the garlic and salt and process several times so the garlic is chopped finely.
Now add the rest of the ingredients and process until very smooth.
Chipotle Lime Variation:
Remove half of the humus. Add 1/2 t chipotle powder, 1/2 cup cilantro and juice of 1 small lime.
Now you have two variations of tasty hummus to enjoy.
I love using hummus to flavor soups..
For a 30 minute soup:
(Broccoli Quinoa)
1 T olive oil
1 onion, diced
1/2 red pepper, chopped finely
6 cloves garlic, minced
1 t dried basil
several grates fresh nutmeg
1/2 t chipotle powder
16 oz frozen broccoli florets (or 1 pound fresh)
2 C of the above hummus (I highly recommend the chipotle variation)
4 c water/stock
bouillon cube if using water
1/2 c quinoa
1/4 c nutritional yeast
salt/pepper to taste
1 T umeboshi vinegar (optional, but VERY good)
Method:
Sauté the onion, pepper, garlic, basil, nutmeg and chipotle powder until the onion is soft. Add the broccoli, hummus and stock. Bring to a boil for several minutes. Turn heat down to low and add the quinoa. Cover and simmer for 15 minutes. Turn off heat and stir in the nutritional yeast and umeboshi vinegar then season with salt and lots of freshly ground black pepper.
The dish below tasted great, but unfortunately makign the sauce BROKE MY VITAMIX! Fortunately, the Vitamix people are sending me a replacement part and I should be good to go in 7-10 business days. I miss it so much!
Zucchini Pasta with a Meaty Tomato Sauce (raw)
Meaty Tomato Sauce
2 c soaked sun dried tomatoes (save liquid for another use)
1 c sunflower seeds
8 c water
1 c fresh basil
2 cloves garlic
1 shallot
2 dates
salt/pepper to taste
1 T balsamic vinegar
2 T EVOO
2 T Nutritional Yeast
1 t dried marjoram
1/2 t fennel seeds
1/2 t crushed red pepper flakes
pinch stevia
Method:
Mix everything together in a large bowl and
process in two batches
in either a good blender or food processor. Let this sit overnight if possible so the flavors will develop.