It's been over two weeks since I've blogged! Wow.. time flies. Life has been interesting as well as me not really having much new to blog about. How many times can I post pics of soup and foods that do not photograph well? I've been cooking a lot for myself and my boys.. but mostly foods that I've blogged about over and over and over. I would guess that many of us eat the same foods over and over?
I received a shipment of delicious Raw Condiments from
Zukay Live Food
s. These products are Raw and fermented, which means they have tons of amazing productive bacteria in each batch. Very good for you and your GI tract. You know those silly dairy yogurt commercials that claim to offer intestinal fortitude? Well, eat some of these LIVE products and you don't need to worry about downing nasty cruelty dairy yogurt! I will be blogging about all of their products, but for this post I used their Hot Salsa as a salad dressing. The first thing you notice when opening the salsa is that it bubbles. It is very alive! I tasted it and it was almost fizzing. I liked the fizz. My only complaint about this salsa was that it was not hot. In fact, I added cayenne and some pickled jalapenos to my salad. I think many people are afraid of heat.. not sure why! Well, maybe I am sure whey up here in the NORTH! I have taught many cooking classes and people are afraid of heat here. I say it is a good thing to train the Northern East Coast people to eat spicy foods! Other than the lack of heat, the flavor was spot on and I really enjoyed the product. It will probably take me a while to go through the rest of the samples since I am pretty much cooking for one here.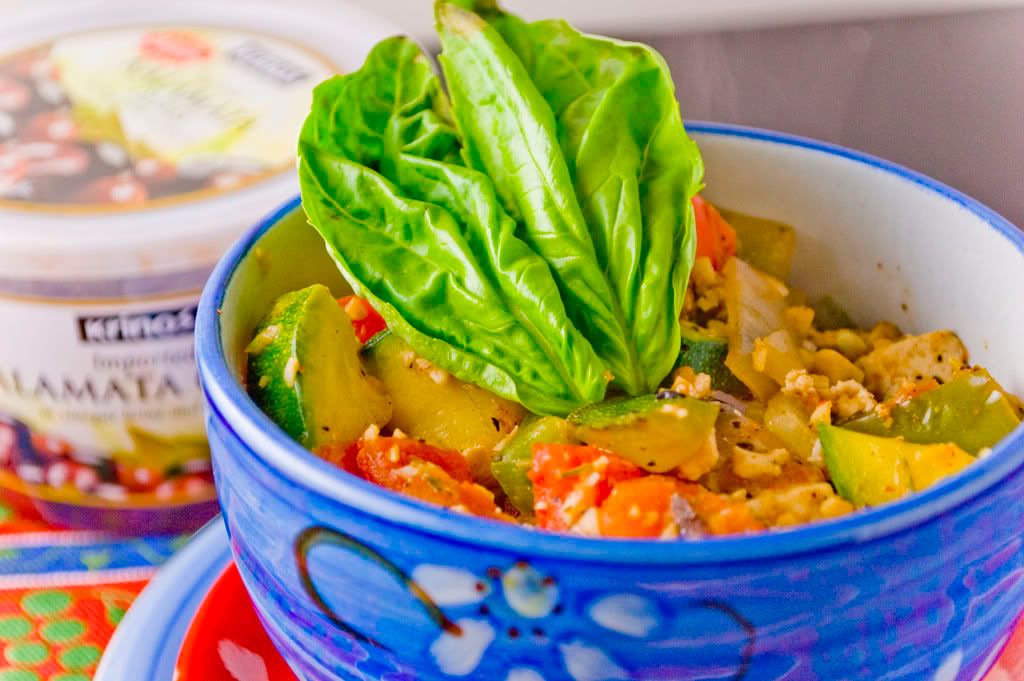 Another super fast but tasty dish.. scrambled veggies and tofu. The veggies were the star here as I used 3 oz of tofu to a large amount of zucchini, tomatoes, green pepper, onions, garlic and flavored the mixture with some kalamata olives and their brine, nutritional yeast and a lot of pepper. I also used 1 serrano chile with the seeds, so this had a nice spice to it. I finished it off with fresh basil.