We have a winner of the
Wheatgrass

Juicer!
Sunshine, I will email you with the details!
Now, onto a recipe for Cheesy Cabbage Potato Soup... this is a
repost
, but so good. I made a batch and it is just so comforting on a cold winter day.. and it's low fat and healthy too!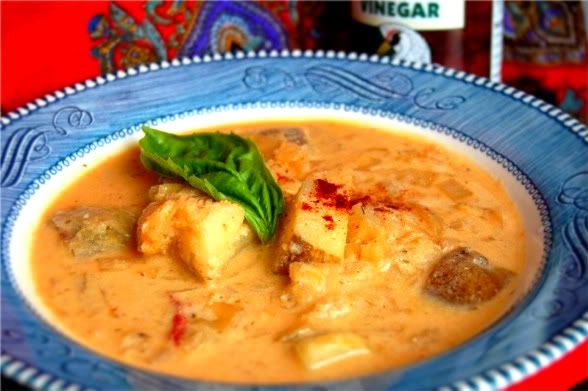 Cheesy Cabbage Potato Soup
Cooking spray
1 onion (around 1 cup, diced)
1 t dried thyme
1 t dried dill
1 t paprika
1/2 t caraway seeds
5 cloves garlic
pinch salt
6 c shredded green cabbage (around 1/2 a medium head)
2 c diced potatoes (around 2 medium)
1-2 canned

chipotle

pepper in

adobo

(use 1 if you don't like heat in your soup)
6 c water
1.5 bouillon cubes
black pepper to taste
Method:
In a large, heavy bottomed soup pan over medium heat spray with cooking spray add the onions, garlic and spices along with a pinch of salt. Cook for several minutes, or until the onion is translucent. Now, add the cabbage and potatoes and
chipotle
and coat with the spice/onion mixture for several more minutes. Add the water and bouillon and bring to a boil, uncovered. Simmer for several minutes, then turn the heat down to low and cover and allow the potatoes and cabbage to cook. Meanwhile, prepare the 'cheese/cream mixture
Cheesy Cream:
1/2 block lite tofu
1/4 c nutritional yeast
1.5 T
tahini
2 t
dijon
mustard
2 small cloves garlic (around 1.5 t, crushed)
1 t yellow mustard (prepared)
2 T
umeboshi
vinegar (or 1 T soy sauce and 1 T lemon juice)
1 T lemon juice
Process all of the above in a food processor until totally smooth. When the soup is done take it off the heat (this is VERY important or the mixture will curdle) and stir into the pot. Let it sit, covered for 5 minutes and taste for salt/pepper. If you'd like, add around 3 cups of the soup to the food processor and puree for a creamier soup (and to get all of the cheesy sauce out!). Add the pureed soup back into the pot. Enjoy!
This makes around 8 cups of soup (I think it may have made more, but I didn't measure it exactly)
A 2 cup serving provides: (1 cup would ALMOST be a 100 calorie snack!)
237 calories
5 g fat
40
carbs
8 g fiber
12 g protein