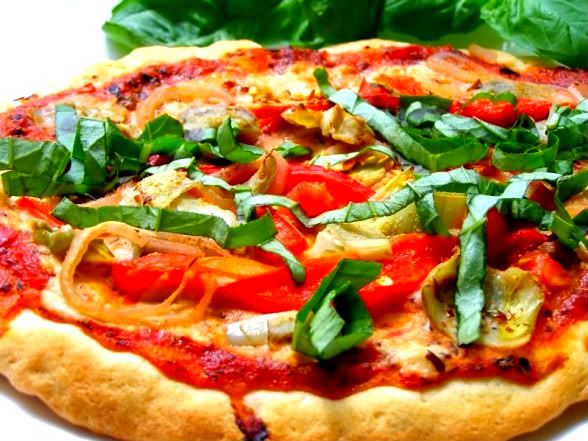 Thursday evening my X had to go to be with his dying grandmother. As of this second, she is still holding on, but it won't be long. I've been at the house since then. Before I left, I packed up a bunch of food so I could do a bunch of cooking.. I forgot my camera, so these pics are old pics, but represent the dishes I made.
First, vegan pizza. I used my leftover raw cashew cheese (oh the blasphemy!) and thinned it out a bit with veg stock and then thickened it up with arrowroot to give it a stretchier and
melty
consistency. The sauce was made from sun dried tomatoes, garlic, onion and spices and I
sauteed
red peppers an onions for toppings. In the original pic, I used fresh basil, but since I didn't have any, I topped it with some baby spinach.
The crust was white flour based which he had on hand.
Earlier that day, I cooked up a pound of kidney beans. I took out 2 cups from what was leftover (for the freezer) and brought the rest to the house. . I also grabbed the frozen low fat goddess dressing I have been saving (to test in a spicy noodle dish and to see how it froze).
Cajun Red Beans and Rice
The first dish I made just a
Cajun
red bean and rice stew. The base was the trinity of course (peppers, onions, celery). I spiced it up with
Cajun
seasoning, more dried thyme, smoked paprika and cayenne. It was quite delicious. (I served brown rice with mine. The pic had
basmati
)
Cajun
Falafels
This is where getting creative with your leftovers really pays off! I'm not sure why I'm even calling these
falafels
, but I am, so there! I knew my kids would not want to eat more red beans and rice. They enjoy the dish, but not day in and day out. I used the leftovers and mixed then with some breadcrumbs, cumin, coriander, lemon juice, lemon zest, olive oil and parsley and some of the goddess dressing. I let the mixture sit
overnight
and formed them into balls. I formed them into
falafel
size balls and baked them. They came out great! cucumber, baby spinach, tomato, onion and some of the goddess dressing complimented them perfectly.
Clean out the fridge spicy noodles. My kids love these and for any of you who have read me for a while know that I used to have a large batch of these in the fridge at all times for snacks. I used whole wheat pasta (on hand at the house) this is again where I get creative with leftovers. Remember the
indian

cabbage and potato/peas
from earlier in the week? Yep! totally
freaken
delicious. I also threw in several handfuls of
TVP
for protein and used the rest of the goddess dressing mixed with ketchup and more ginger. Cilantro,
siracha
and lime juice finished it off along with toasted black sesame seeds. I know it sounds awful, but it was delicious and will give them at least 4 large servings.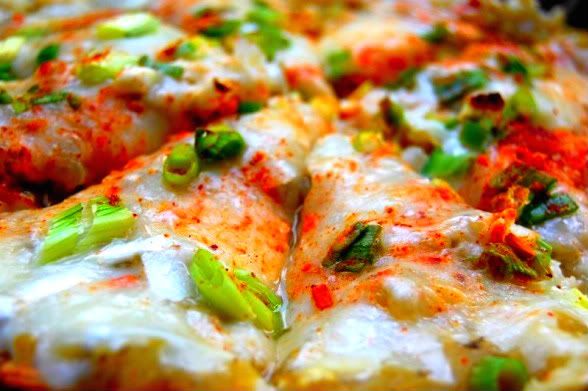 Finally, enchilada bake. I made
refried

kidney beans (recipe is for pintos.)
Corn tortillas, salsa, beans and cheese were layered, topped with cheese, spices, cilantro and scallions then baked.
Simple and delicious. I made the bake in a 9 inch pie pan, so there are 4 large servings or 6 regular sized.
I'm having a friend over for lunch tomorrow. I'm not sure what I'm making yet. I want to created a new recipe for my
ebook
. She is gluten free, so I'm pondering the options.