Raw Burrito
I have decided to be raw today. Not feeling well and really need to pump up the immune system.
I had a green smoothie this morning and half of this raw burrito. The burrito was filled with walnut/veggie taco meat, veggies, salsa, spinach and sunflower
queso
. Totally delicious and filling. I used two HUGE collard greens to wrap this and only had half for breakfast, saving the rest for lunch. I just LOVE collards. Who needs tortillas or bread? I never thought I'd be satisfied without bread, but give it a try if you're skeptical!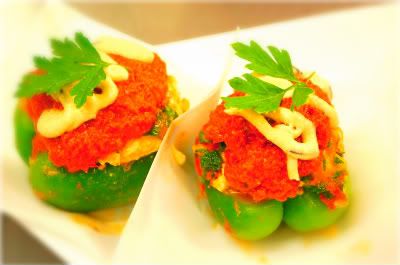 Italian Stuffed Peppers
I planned on having a huge salad for dinner, but decided on these instead. I made a quick raw marinara out of sun dried tomatoes. The filling was a mixture of massaged kale, sunflower seeds, sun dried tomatoes, garlic, onions, red pepper flakes, spices and carrots. I topped them with a cashew
ceasar
dressing and placed them in the dehydrator for an hour to warm them up.
Lots of hot herbal tea with fresh ginger is helping warm me up and soothe my throat.