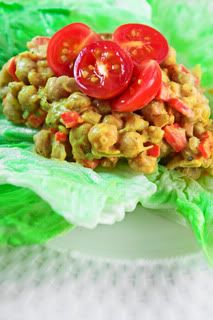 So, the name is quite lofty eh? ... but trust me, this chickpea salad is fantastic. I scored a huge head of iceberg lettuce for $.50 yesterday which was the perfect wrap; crunchy like a cracker and totally satisfying. I know iceberg lettuce doesn't have much nutrition, but I like to use it instead of crackers for dips and spreads Try it sometime!
This salad uses my
Low Fat Vegenaise Alternative
. If you use regular vegenaise, the calories will be much higher so you might want to cut back on the amount of mayo? If you have't tried my mayo recipe, what are you waiting for? It is really good!
Last week, I was browsing blogs and I came across someone who mentioned using black salt in their chickpea tuna recipe. For the life of me, I can't remember who it was, so if it's YOU let me know so I can link back to your blog! ... anyway... so the idea of black salt in chickpea salad sounded so good I had to try it.
And it is. So. Good.
Vegan Georgia
! Thanks for the idea!
Chickpea Salad
2 c cooked and drained chickpeas
½ c celery
2 c shredded carrots
¼ c onion, minced
2 T mustard
½ t black salt
2 T relish
½ c
mayonnaise
Ground pepper
2 t marjoram
½ t chipotle
2 T nutritional yeast
½ t lemon pepper
Pinch garlic powder
Salt/Pepper to taste
Mash the chickpeas a bit with a fork, add the rest of the ingredients and mix well. Let salad sit for an hour ( or even better, overnight ) before serving
Curried Chickpea Variation
:
Remove relish, marjoram and chipotle
Add ½ c raisins, 1 T curry powder, ½ c cilantro and ½ c toasted sunflower seeds and 1 T apple cider vinegar
If it's too cold for salad, here's several chickpea recipe that will warm you up!
What are your favorite ways to use chickepas?